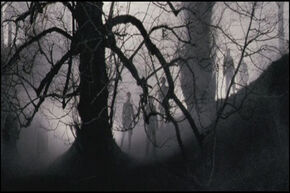 Skirmish at the S.S. Bunker

Combatants

Purpose

Nazi Ghosts wanting control over the world

Era

2008

Location

Russia, Eastern Europe/No Man's Land, S.S. Bunker
The Skirmish at the S.S. Bunker refers to a two-and-half day period in which D.C.'s mercenary team was assaulted by the inhabitants of the bunker, Nazi Ghosts. No member of the team survived.
Notable combatants
Edit
Ad blocker interference detected!
Wikia is a free-to-use site that makes money from advertising. We have a modified experience for viewers using ad blockers

Wikia is not accessible if you've made further modifications. Remove the custom ad blocker rule(s) and the page will load as expected.