Reanimation Machine

Manufacturer

The Breather, S.S. scientists

Service

1945-2008

Users

Nazi scientists (1945), Mercenaries (2008)

Ammunition

Electro-magnetic pulse

Appearance
The
Reanimation Machine
is a weapon in
Outpost
.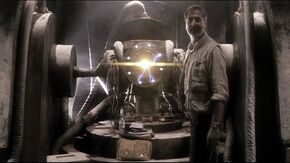 During the end of World War II, the Nazis began to conduct experiments on their own men. One of the experiment's purpose was to create an invincible soldier. After partially successfully doing so, the Reanimation Machine was created. This device awoken, controlled, and killed the Nazi Ghosts. It was developed by The Breather and his team of SS scientists. After the attack on the bunker, the machine and the bunker were left behind and forgotten about, until D.C.'s team investigated the bunker.
Upon reaching the S.S. bunker and inspecting it, Hunt finds this machine. Unbeknownst to D.C. and the other mercenaries, the Reanimation Machine was the real reason why Hunt wanted an escort. Hunt knew that the machine would be worth millions, possibly billions, of dollars and would make him rich, which is why he didn't want to tell D.C. and the others. At one point during the final battle scene, Hunt activates the machine, and it kills all attacking Nazi Ghosts in the bunker. However, the machine malfunctions, and the Ghosts rise again. Within several minutes, D.C. and Hunt, the last surviving men, were killed. The fate of this machine is currently unknown.

Ad blocker interference detected!
Wikia is a free-to-use site that makes money from advertising. We have a modified experience for viewers using ad blockers

Wikia is not accessible if you've made further modifications. Remove the custom ad blocker rule(s) and the page will load as expected.