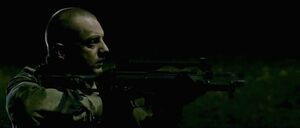 Jordan is a character in
Outpost
.
Biography
Edit
Jordan was a member of D.C.'s team that was paid by Hunt to help Hunt on his journey through No Man's Land to find "minerals". He was one of the last surviving Mercenaries. Though, eventually, he is killed at the hands of the Nazi Ghosts by being repeatedly stabbed with knives.
Ad blocker interference detected!
Wikia is a free-to-use site that makes money from advertising. We have a modified experience for viewers using ad blockers

Wikia is not accessible if you've made further modifications. Remove the custom ad blocker rule(s) and the page will load as expected.