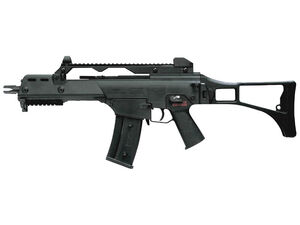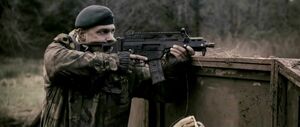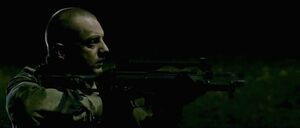 Heckler & Koch G36C

Manufacturer

Heckler & Koch

Service

1997-present

Users

Ammunition

5.56x45mm NATO

Appearance

Outpost
The
Heckler & Koch G36C
is a select-fire assault rifle and shorter variant of the Heckler & Koch G36.
In the film Outpost; D.C. and Jordan are the only two Mercenaries to carry the G36C while fighting the Nazi Ghosts. In various scenes; D.C. has his G36C not modified with a duel magazine; however in the the end fight; D.C. has his modified with a duel magazine system.
Ad blocker interference detected!
Wikia is a free-to-use site that makes money from advertising. We have a modified experience for viewers using ad blockers

Wikia is not accessible if you've made further modifications. Remove the custom ad blocker rule(s) and the page will load as expected.