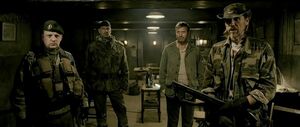 Heckler & Koch FABARM FP6

Manufacturer

Heckler & Koch

Service

1998-Present

Users

Ammunition

12 Gauge

Appearance

Outpost
The
Heckler & Koch FABARM FP6
is a pump-action shotgun designed and developed by Heckler & Koch. It started production back in 1998 and has currently been in production since it was first introduced.
The Heckler & Koch FABARM FP6 was seen in the hands of Prior who also carried a Norinco Type 56 as his primary weapon and a Beretta 92FS Centurion as his sidearm. He was seen carrying the weapon; however, didn't use it until the final battle when the Nazi Ghosts were coming towards the S.S. Bunker.
Prior carries a Heckler & Koch FABARM FP6 shotgun in addition to his Norinco Type-56 rifle. The FABARM is fitted with a pistol grip.