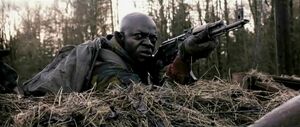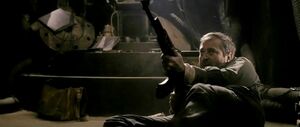 AKM

Manufacturer

Izhmash

Service

1959-present

Users

Ammunition

7.62x39mm

Appearance

Outpost
The
AKM
is an upgraded version of the AK-47 assault rifle. It was designed by Mikhail Kalashnikov and was developed by Izhmash from 1959 to the present day.
In the film Outpost, only two of Mercenaries were carrying the AKM when they were at the S.S. Bunker in No Man's Land; those mercenaries were Cotter and Taktarov, where as mercenaries like Prior, Voyteche and McKay all utilize the Norinco Type 56. When Cotter was killed by one of the Nazi Ghosts; Hunt actually used Cotter's AKM and shot at the Nazi, but proved ineffective.
Ad blocker interference detected!
Wikia is a free-to-use site that makes money from advertising. We have a modified experience for viewers using ad blockers

Wikia is not accessible if you've made further modifications. Remove the custom ad blocker rule(s) and the page will load as expected.